Carlotta Chenoweth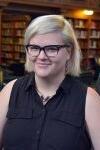 Dissertation:  "The Illiterate Text: Literacy and Soviet Literature, 1918-1928" 
Research Interests: Soviet literature to 1930; Soviet print culture; history of reading and the book; digital scholarship; Russian and Soviet material culture.
Education:
MPhil, 2016, Yale University
BA, 2009, Wellesley College
Fellowships and Awards:
2016: Digital Humanities Fellow
2016: Russian Studies Grant
2015 – 2016: Nina Berberova Fellow
2015: Beinecke Pre-Prospectus Summer Fellowship
2014: Yale Summer Language Institute Fellowship (French)
2009: Florence Annette Wing Prize for Lyric Poetry (Translation)
Papers:
"Sovetskaia azbuka: Mayakovsky and the Didactic Imagetext," Pedagogy of Images, Princeton University, March 2017. 
"Seeing Through Data: How Does Digital Humanities Change How We View Culture?" (Roundtable), ASEEES, Washington, D.C., November 2016. 
 "Introduction to Topic Modeling," Digital Humanities THATCamp, ASEEES, Washington, D.C., November 2016. 
 "Brodsky in absentia: An Interactive Map of Exile," Outside of Russia, University of Pennsylvania, March 2015.
 "Balmont to Mayakovsky: The Lyric Person," ASEEES, San Antonio, November 2014.